Got a passion for bodywork? Well, now you've got a whole new way to do it. Total Body Stretch is a powerful tool in any healer's toolbox. It gives you a new way to help clients while growing your professional skills. Massage Envy franchised locations* provide a consistent clientele, all the supplies you need, comprehensive sanitizing and disinfecting protocols, a safe and therapeutic environment, and freedom from the marketing and administrative work that comes from running your own business. And that's just the beginning of how you'll be empowered to do more of what you love.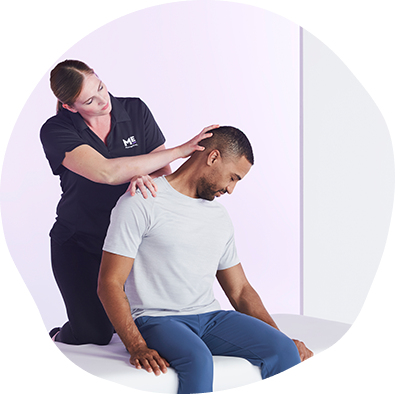 "I love Total Body Stretch. It's another tool in my arsenal to help my clients feel their best at the end of a session. It also gives them awareness of their body and different areas to work on. Total Body Stretch also helps me add variety in my practice, and I like that it's less stress on my body."

Oscar L.

Massage Therapist & Stretch Provider
Benefits You'll Love
Stretch yourself professionally

Total Body Stretch allows massage therapists to add variety to their practice and help members and guests in new ways that can be less strenuous on the body. For certified personal trainers,† Total Body Stretch can help you discover a new way to help people pursue their fitness goals while allowing you to earn extra income.

Serious self-care, from your hands to your head

If your body doesn't work, you can't work on bodies. And when massage is your calling, you don't want anything to put it on hold. A self-care program is available to help you keep your body working and mental wellness resources to help you keep your mind as strong as your hands.

More ways to keep bodies working

Your hands (and arms and elbows) are your most important tools, but they don't have to be the only tools in the treatment room. With exciting enhancements like Rapid Tension Relief, you've got more ways than ever to keep bodies working.
† Stretch services can be provided by certified personal trainers and other fitness professionals in some, but not all, states. Some states allow stretch services to be provided only by licensed or certified massage therapists. Check with your local franchised location for the restrictions in your city or state.
What you'll experience at Massage Envy franchised locations:
We're better together bringing together the support of not just a franchised location team, but an entire community of more than 35,000 therapists, estheticians, stretch providers, and associates who share your passion.

Feel good while doing good with self-care resources for both body and mind, exciting new services and enhancements, and the opportunity to positively impact the lives of more than 1.5 million clients each month.

Committed to safety and setting the industry standard on providing a safe, therapeutic, and healing environment for services providers, clients, and everyone in between.

Focused on health and wellbeing with strengthened brand standards, from training on infection prevention and control to enhanced cleaning and disinfection protocols, face covering requirements, and more.
Stay Connected with Me
Sign up to hear about the latest job postings, company news, and industry info.
Sign up to connect