As a bodywork professional, you understand that the pursuit of well-being requires a mix of total body care strategies. Whether you're a practicing massage therapist, a fitness professional, or someone pursuing a new career in body care,† Total Body Stretch offers you a new way to grow professionally while helping members and guests discover new ways to care for themselves.
What we offer
BENEFITS THAT SUSTAIN YOU

with consistent clientele, flexible schedules, and a clean well-supplied professional environment so you can focus on doing—and getting paid to do—what you love.

AN ENVIRONMENT THAT RESPECTS YOU

and your unique expertise as an integral part of the vision of total body care.

A SERVICE MODEL THAT EMPOWERS YOU

to get to know your clients and customize each session to support their wellness goals.

SERVICE INNOVATIONS THAT EXCITE YOU

with new ways to help clients feel their best.
Job Description
Overview:
Personal Trainers, are you ready to use your bodywork skills and experience in a whole new way to help people feel their best?
Massage Envy is the leader in accessible massage and skin care and creator of the exclusive Streto Method, a premier, customizable, assisted stretch service. As a stretch service provider at our Vacaville franchised location,* you'll join a team that's passionate about helping people feel their best through a variety of total body care strategies. Our "Total Body Stretch" sessions are designed as a stand-alone service or as a complement to massage. You have a meaningful role to play in that mission as you:
Combine your experience and expertise with our 15+ years of massage expertise with the latest stretch research to help clients improve flexibility, mobility, and performance.

Build relationships with members and guests

to help them pursue their total body care goals.

Deliver an amazing, safe, and therapeutic experience

with every service.
You must be:
Someone who enjoys helping people

Outgoing and have excellent communication skills

Currently certified with NASM, ACE, ISSA, ACSM, OR AFPA

Hard working, reliable and honest
Here's what's in it for you:
The difference you'll make in clients' lives is the biggest reward of all. But the perks don't stop there. We support and inspire you to be your best inside and outside the treatment room with:
Benefits that help you take care of you including a flexible schedule, steady clientele, all the supplies you will need, 1-2 free services a month (can be used for TBS, massage or facial), and a generous discount on all retail products.
A healthy compensation plan that rewards your hard work with

base hourly wage plus bonuses and generous gratuities, free and low-cost CEU's.

A dedication to self-care with an education program that helps managers understand and support the unique needs of bodywork service providers.
A commitment to safety and providing a therapeutic, healing environment for you and Massage Envy members and guests.
We will train you at our expense to become a Stretch Therapist, you receive the CEU's that come with the training.
What We'll Accomplish Together:
As a team, we're committed to offering excellent professional services that help clients do more of the things they love. Your role and the work you do every day is at the very heart of our mission. This includes:
Designing and delivering sessions of Massage Envy's stretch therapy service,Total Body Stretch,to promote members' and guests' flexibility, mobility, circulation, injury prevention, recovery and performance within scope of practice and licensing guidelines as applicable in our state.
Customizing stretch sessions within Massage Envy's policies and protocols to craft truly personalized services.
Safeguarding the client experience, maintaining client confidentiality and upholding our commitment to safety.
Embracing the Massage Envy core valuesof optimism, gratitude, excellence, consistency and empathy.
Protecting our workplace cultureby recognizing and supporting team goals and building positive relationships with team members.
What it Takes to Succeed:
We only succeed together, so we're looking for people with the passion and experience to be amazing. Those who thrive in this role are:
Knowledgeable professionals who are certified personal trainers with a strong command of human anatomy (preferred).
Well-educated and credentialed in their specific field of bodywork.

Certified personal trainers should have a minimum of one year of experience in personal training, fitness coaching, therapeutic bodywork or a related field and should have either a Bachelor's degree in exercise science or a similar field or have a current certification from NASM, ACE, ISSA, ACSM, or AFPA or similar program.

You'll need to be able to pass a background and reference check with flying colors.
Clear communicators who can effectively identify each client's needs, set clear expectations, and stay connected to the client throughout the session to achieve the goals of each service.
Total body care champions who can recommend follow-up visits and additional services and products as needed to help clients pursue their wellness goals.
Great teammates who show up on time ready to jump in wherever needed to get the job done.

We Believe Our Differences Make Us Better
We're excited to hear from everyone with the skills, experience, and passion to do a great job regardless of race, color, religion, gender, sexual orientation, national origin, genetics, disability, age, or veteran status.
If you're ready to user your bodywork skills in a whole new way to help people feel their best, we can't wait to meet you.
---
*Massage Envy Franchising, LLC ("MEF") is a national franchisor of independently owned and operated franchised locations. Each individual franchised location, not MEF or any of its affiliates, is the sole employer for all positions posted by a franchised location, and each individual franchised location is not acting as an agent for MEF or any of its affiliates. Hiring criteria, benefits and compensation are set by each individually owned and operated franchised location and may vary from location to location.
Apply
Watch our videos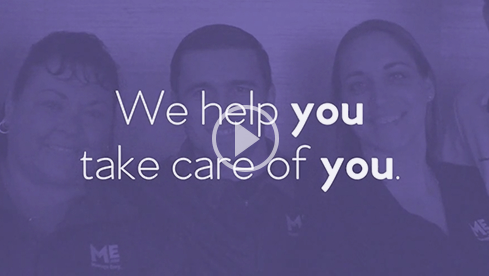 Massage Envy Careers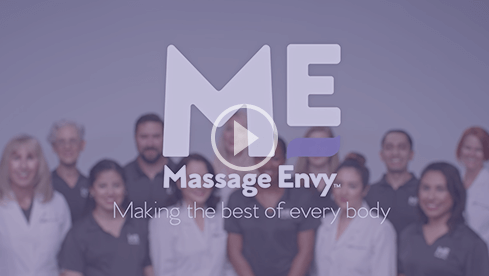 A Career at Massage Envy
Stay Connected
Get to know ME at a deeper level. Sign up to stay updated on the latest job postings, company news, and industry info.
Sign Up