As a massage therapist, you put your heart and soul into helping others feel their best. That's why you deserve a career that does the same for you. At Massage Envy franchised locations,* you'll find a culture that nurtures you as a person, an artist, and a professional. With access to things like 12+ FREE CEs per year and a commitment to self-care, you'll have the tools and support you need to thrive in the career you love.
What we offer
Free Continuing Education

Grow in the treatment room and beyond with access to 12+ FREE CEs per year.

A COMMITMENT TO SELF-CARE




Prolong the life of the career you love with the support you need to thrive as a wellness athlete.

A TECHNOLOGICALLY-ENHANCED EXPERIENCE

Save your hands for healing with industry-leading technology designed by massage therapists for massage therapists.
Job Description
What We'll Accomplish Together:
Lead Therapist Job Description
The Lead Therapist position at Troy and Birmingham is the key communication partner between Massage Therapists and the Management team. The Lead Therapist is responsible for setting a positive example and serving as a role model of what exemplary characteristics a Massage Therapist should portray. This includes assisting with recruiting, motivating, scheduling and training Massage Therapists.
The Lead Therapist Administrative and Training Role will be limited to 5 hours per week. If it is determined that more time is needed, prior approval must be received from the franchisee.
Responsibilities of the Lead Therapist include (but are not limited to):
Serving as a recruiter of the Therapist team for the clinic:

A primary clinic contact with the local therapy schools and developing relationships with the placement faculty.

Coordinating interviews and practicals with Massage Therapist prospects.

Receiving a minimum of a 30 minute practical to determine if qualified and summarize on appropriate documents.

Coordinate, organize and facilitate training with each Therapist:

Ongoing training of polices/procedures of current therapists and for new Massage Therapists.

Massage Envy Spa Draping procedures.

Inappropriate touch/behavior procedures.

Enhancements-reviewing the protocols to make sure they are being correctly followed with each session.

Schedule, with assistance form the Clinic Manager, the clinical therapist work schedules including; time off requests in accordance with the Employee Handbook and the clinic's needs.

Coordinate coverage or provide coverage for therapists who have requested time off or have called in sick.

Coordinate with the Clinic Manager to ensure the cleaning schedule meets clinic expectations.

Model exceptional customer service skills for the entire clinic staff to emulate.

Set the tone and culture for the Massage Therapist and Esthetician team.

Responsible for maintaining a positive work environment by fielding Massage Therapist and Esthetician challenges and facilitating solution oriented discussions.

Mentor Massage Therapists in a respectful and honest manner; effectively communicating and helping to create "habits of success".

Facilitate communication between the Massage Therapists, Estheticians, FDA's and Management.

Attend regional training as required or requested by Clinic Manager and share information and training with Therapists and Estheticians.

Review applicable reports from Millennium and InMoment to gauge Therapist performance and relay the information to the Clinic Manager.

Assist with planning Therapist goals and objectives.

Assist with and help conduct Therapist quarterly meetings and all staff meetings.

Assist with licensing and liability insurance requirements and making sure all are current and updated.

Bring any employee issues to the attention of management and work together on any recommended disciplinary actions.
What it Takes to Succeed:
Education, Skills and Training:
Minimum of 500 hours of massage therapy school and a certificate of completion.

Participates in continuing education to improve effectiveness (preferred).

Satisfactory results of background and reference check is a condition of employment in this position.

Must adhere to all applicable local and state licensing laws and regulations related to the massage therapy services provided, including following any applicable law pertaining to maintaining current Massage License.

Knowledge of and experience in performing Swedish and Deep Tissue Massage required, as well as knowledge of and experience in performing other modalities offered by Massage Envy.

Understands and believes in the healing benefits of massage therapy and bodywork.
Communications and Personal Interactions:
Have a strong customer service orientation.

Possess the ability to communicate effectively (orally and written) and in a courteous and professional manner on a regular basis with members, guests, co-workers and management.

Maintain client confidentiality.

Completion of all current CEU offerings

Work a minimum of 5 days per week including; one weekend shift and one evening shift

Exceptional Therapeutic techniques and skills

Ability to identify areas for technical improvement for your Massage Therapist team and individually

Ability to train and mentor

Effective communication and listening skills

Problem solving skills

Interpersonal relationship skills

Emotional intelligence

Excellent customer service skills

Flexibility to adaptability

Self-motivated

Computer skills

Positive attitude
____________________________________________________________________________________
*Massage Envy Franchising, LLC ("MEF") is a national franchisor of independently owned and operated franchised locations. Each individual franchised location, not MEF or any of its affiliates, is the sole employer for all positions posted by a franchised location, and each individual franchised location is not acting as an agent for MEF or any of its affiliates. Hiring criteria, benefits and compensation are set by each individually owned and operated franchised location and may vary from location to location.
Apply
Watch our videos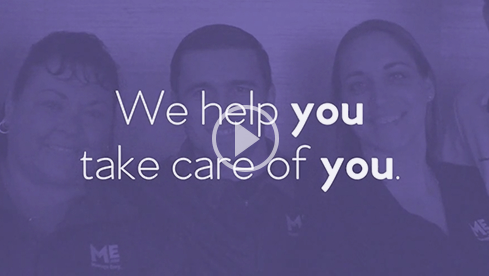 Massage Envy Careers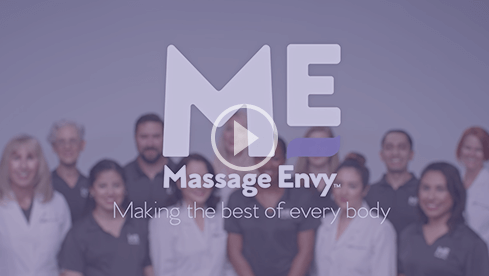 A Career at Massage Envy
Stay Connected
Get to know ME at a deeper level. Sign up to stay updated on the latest job postings, company news, and industry info.
Sign Up