As a massage therapist, you put your heart and soul into helping others feel their best. That's why you deserve a career that does the same for you. At Massage Envy franchised locations,* you'll find a culture that nurtures you as a person, an artist, and a professional. With access to things like 12+ FREE CEs per year and a commitment to self-care, you'll have the tools and support you need to thrive in the career you love.
What we offer
Free Continuing Education

Grow in the treatment room and beyond with access to 12+ FREE CEs per year.

A COMMITMENT TO SELF-CARE




Prolong the life of the career you love with the support you need to thrive as a wellness athlete.

A TECHNOLOGICALLY-ENHANCED EXPERIENCE

Save your hands for healing with industry-leading technology designed by massage therapists for massage therapists.
Job Description
Overview:
Welcome Therapists! If what you read over the next seven lines sounds like your ideal work environment, be sure to continue reading and apply at Massage Envy in Palm Coast!
Practicing massage within a policy-driven, "No Negativity" workplace culture.

Earning an average hourly starting compensation of approximately $30.00.

Changing your perception of worklife and massage like nowhere else in Palm Coast through a unique work environment.

Becoming a better therapist through a team that looks to help each other grow by sharing massage experience and techniques.

If you desire, utilizing support of our therapists' knowledge, compassion, and generosity to both refresh and improve your services.

Participating in a selfcare program that extends the life of your career.You'll never be asked work more hours than you know your body can handle.

Being part of monthly meetings to keep updated on clinic procedures that help shape your work environment.
Workplace Overview
According to therapists, working with owners Billy & Cristina at Massage Envy in Palm Coast is so refreshing. They're amazed to see a young couple be "so on top of it". Therapists also find it nice to be able to share ideas and opinions in an open-minded workplace with the intent ofconstant improvement. Like these therapists, you'll find it's wonderful to be encouraged, not discouraged, by mistakes. It's peace of mind to know leaders are there to support in all circumstances and in safety. Palm Coast Massage Envy therapists find it's too hard to go back to work in thefar too commontoxic work environment once you've experienced this team. Typically, our therapists only leave if they relocate.
The Massage Envy Brand is truly committed to massage therapists. Even so, each location is independently owned and operated by a local business owner and resident of your community. Billy and Cristina highly encourage you to come meet the team and chat with some therapists on the subject of how awesome it is to be part of the team! Read on to learn about our amazing location, benefits (more to come, as we only opened 5/31/17), available hours, and additional job requirements.
Location
Island Walk Shopping Center is the premier shopping destination in Palm Coast. It boasts Publix, Hobby Lobby, IHop, PetCo, Tuesday Morning, YourChiro and much more to drive your clientele into your treatment room. This is a well-managed, productive, and rapidly growing Massage Envy clinic with a member base of over 900 and 18 fantastic massage therapists (and growing). You will be able to grow your repeat clientele very quickly, permitting the quality of your services and dedication to Massage Envy standards and values.
Benefits
Our current benefits include the following and will expand with our young business:
Student Loan Reimbursement up to $5,000.(26+ hours of weekly hands on time).
Free monthly 1-hour massage.(26+ hours of weekly hands on time).
Compensation when your clients miss their appointments.
Paid breaks up to 30 minutes.
Sit pay: We make sure to pay you if you're waiting for appointments--for instance, building your book as a new therapist.
Free coffee and water in our spacious breakroom.
Room ready: Show up to work with your room already prepared to start your amazing day!
No laundry duty required.
12+ free annual CEU's.
40% off nearly all retail items. A great way to build your skincare regimen for total body care, or expand your aromatherapy and self-care collections.
Trade program available for self care
More to come...
Hours
Currently evening and weekend hours available. Get what you want while it's still available. We do request at least a short weekend shift--especially those new teammembers building their book.
What We'll Accomplish Together:
As a team, we're committed to offering excellent professional services that help clients do more of the things they love. Your role and the work you do every day is at the very heart of our mission. This includes:
Performing quality, therapeutic bodywork that meets clients' needs within scope of practice and licensing guidelines as applicable in our state.
Customizing massage services within Massage Envy's policies, protocols, and approved modalities to craft truly personalized sessions.
Safeguarding the client experience, maintaining client confidentiality and upholding our commitment to safety.
Embracing the Massage Envy core values of optimism, gratitude, excellence, consistency and empathy.
Protecting our workplace culture by recognizing and supporting team goals and building positive relationships with team members.
What it Takes to Succeed:
We only succeed together, so we're looking for people with the passion and experience to be amazing. Those who thrive in this role are:
Well-skilled professionals who have a minimum of 500 hours of massage therapy school under their belts and a certificate of completion. You'll also need to meet the licensing requirements for massage therapy in our state and be able to pass a background and reference check with flying colors.
Thirsty for knowledge, seeking continuing education to build on their modality mastery (which must include Swedish and deep tissue massage)
Clear communicators who can effectively identify each client's needs, set clear expectations, and stay connected to the client throughout the session to achieve the goals of each service.
Total body care champions who can recommend follow-up visits and additional services and products as needed to help clients pursue their wellness goals.
Great teammates who show up on time ready to jump in wherever needed to get the job done.

Open to constructive feedbackwe seek those are ready to grow and understand feedback is golden.
*Massage Envy Franchising, LLC ("MEF") is a national franchisor of independently owned and operated franchised locations. Each individual franchised location, not MEF or any of its affiliates, is the sole employer for all positions posted by a franchised location, and each individual franchised location is not acting as an agent for MEF or any of its affiliates. Hiring criteria, benefits and compensation are set by each individually owned and operated franchised location and may vary from location to location.
Apply
Watch our videos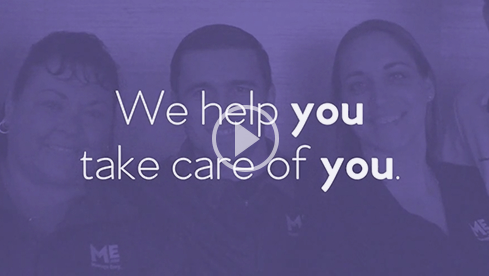 Massage Envy Careers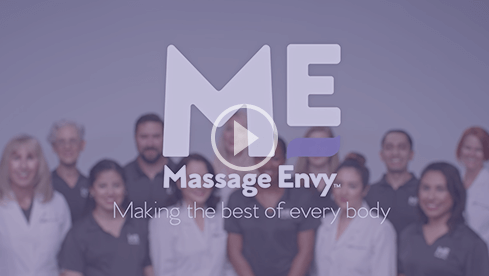 A Career at Massage Envy
Stay Connected
Get to know ME at a deeper level. Sign up to stay updated on the latest job postings, company news, and industry info.
Sign Up