As a massage therapist, you put your heart and soul into helping others feel their best. That's why you deserve a career that does the same for you. At Massage Envy franchised locations,* you'll find a culture that nurtures you as a person, an artist, and a professional. With access to things like 12+ FREE CEs per year and a commitment to self-care, you'll have the tools and support you need to thrive in the career you love.
What we offer
Free Continuing Education

Grow in the treatment room and beyond with access to 12+ FREE CEs per year.

A COMMITMENT TO SELF-CARE




Prolong the life of the career you love with the support you need to thrive as a wellness athlete.

A TECHNOLOGICALLY-ENHANCED EXPERIENCE

Save your hands for healing with industry-leading technology designed by massage therapists for massage therapists.
Job Description
Overview:
Massage Envy – Mobile is Now Hiring!
Massage Envy is more than the leader in accessible massage & skincare. We're a community of caregivers committed to helping people feel their best. We believe that therapeutic massage is an integral part of one's well-being journey. Join us and learn more about our culture of care and discover a place that nurtures you as a person, an artist, and a professional.
$500 Full Time sign on bonus and $250 Part Time sign on bonus*
Winner for BEST MASSAGE THERAPIST two years in a row for Lagniappe Nappie Award
Consistent schedules & flexible hours with the access to work at multiple locations.
Offer opportunities to do offsite events
Commissions, gratuities, and bonuses
Medical & Dental insurance options available
We supply all equipment & massage mediums. Mediums used are our own brand that were designed by therapists, for therapists.
Free CEU's & discounts on professional insurance through AMTA.
Employee self-care programs with employee membership benefits that offer free services monthly.
Training & service offering in Massage Envy's exclusive, professionally assisted total body stretch services.

We welcome the chance to meet with you and discuss career opportunities with Massage Envy. Come find out why SO many massage professionals are choosing to be part of our team. To set up an interview please send your resume to Clinic0841@massageenvy.com,
or contact us at (251)316-3110. We look forward to hearing from you!
*Clinic requirements must be met before employee receives sign on bonus. Please call for the list of requirements.
What We'll Accomplish Together:
As a team, we're committed to offering excellent professional services that help clients do more of the things they love. Your role and the work you do every day is at the very heart of our mission. This includes:
Performing quality, therapeutic bodywork that meets clients' needs within scope of practice and licensing guidelines as applicable in our state.
Customizing massage services within Massage Envy's policies, protocols, and approved modalities to craft truly personalized sessions.
Safeguarding the client experience, maintaining client confidentiality and upholding our commitment to safety.
Embracing the Massage Envy core values of optimism, gratitude, excellence, consistency and empathy.
Protecting our workplace culture by recognizing and supporting team goals and building positive relationships with team members.
What it Takes to Succeed:
We only succeed together, so we're looking for people with the passion and experience to be amazing. Those who thrive in this role are:
Well-skilled professionals who have a minimum of 500 hours of massage therapy school under their belts and a certificate of completion. You'll also need to meet the licensing requirements for massage therapy in our state and be able to pass a background and reference check with flying colors.
Thirsty for knowledge, seeking continuing education to build on their modality mastery (which must include Swedish and deep tissue massage)
Clear communicators who can effectively identify each client's needs, set clear expectations, and stay connected to the client throughout the session to achieve the goals of each service.
Total body care champions who can recommend follow-up visits and additional services and products as needed to help clients pursue their wellness goals.
Great teammates who show up on time ready to jump in wherever needed to get the job done.

We Believe Our Differences Make Us Better
We're excited to hear from everyone with the skills, experience, and passion to do a great job regardless of race, color, religion, gender, sexual orientation, national origin, genetics, disability, age, or veteran status.
If you're ready to bring your healing skills to a place where you can focus on doing what you love, we can't wait to meet you.
---
*Massage Envy Franchising, LLC ("MEF") is a national franchisor of independently owned and operated franchised locations. Each individual franchised location, not MEF or any of its affiliates, is the sole employer for all positions posted by a franchised location, and each individual franchised location is not acting as an agent for MEF or any of its affiliates. Hiring criteria, benefits and compensation are set by each individually owned and operated franchised location and may vary from location to location.
Apply
Watch our videos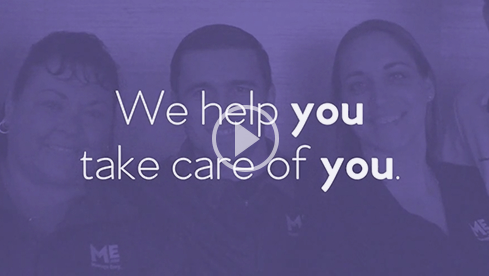 Massage Envy Careers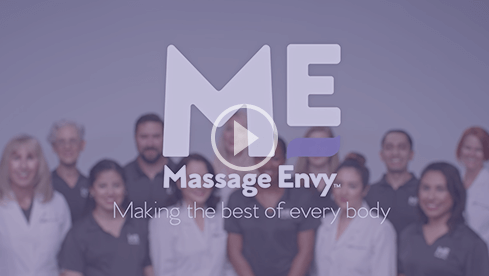 A Career at Massage Envy
Stay Connected
Get to know ME at a deeper level. Sign up to stay updated on the latest job postings, company news, and industry info.
Sign Up