As a massage therapist, you put your heart and soul into helping others feel their best. That's why you deserve a career that does the same for you. At Massage Envy franchised locations,* you'll find a culture that nurtures you as a person, an artist, and a professional. With access to things like 12+ FREE CEs per year and a commitment to self-care, you'll have the tools and support you need to thrive in the career you love.
What we offer
Free Continuing Education

Grow in the treatment room and beyond with access to 12+ FREE CEs per year.

A COMMITMENT TO SELF-CARE




Prolong the life of the career you love with the support you need to thrive as a wellness athlete.

A TECHNOLOGICALLY-ENHANCED EXPERIENCE

Save your hands for healing with industry-leading technology designed by massage therapists for massage therapists.
Job Description
Overview:
Are you ready to focus on doing what you love in a place that helps you feel and deliver your best?
Whether you are a recent graduate or a seasoned massage therapist, Massage Envy has a spot for you. We are looking for Massage Therapists that are interested in a great work energy and enhancing and lengthening their career in bodywork!
We offer opportunities for massage therapists looking to grow as practitioners by giving them exposure to a wide range of clients and experiences. Massage Envy also allows massage therapists who have been in the business extensively to join an easy-going environment where everything is provided for you, from the clients to the linens. If you are a massage therapist who loves what you do and is passionate about the care of every client who walks through our doors, then Massage Envy will be a stimulating and rewarding workplace that you will be honored to be a part of.
Massage Envy now offers 6 FREE Continuing Education courses in body mechanics, self-care, Total Body Stretch, and other various modalities.
Ready to give your body a break? All Massage Therapists become trained and certified in our newest service: Total Body Stretch!
Combining over 15 years of massage expertise with the latest stretch research, Massage Envy developed the exclusive Streto Method for our assisted stretch program. It is a premier, customizable, assisted stretch service designed to increase flexibility, mobility, and performance. The Massage Envy Streto Method is used on athletes in the PGA Tour and supported by Major League Baseball and the NFL.
Responsibilities
This is the career and home for you if you are:
Reliable

Love helping and healing others

Are passionate about what bodywork does and can educate your members and guests

Enjoy creating a custom session based on your clients needs and flow

Are a professional and have integrity in your craft

Seeking a consistent workflow and an environment where your growth and education is fostered
Education, Skills and Training:
Valid licensing by the State or county

Satisfactory results of background and reference check.

Must adhere to all applicable local and state licensing laws and regulations related to massage therapy

Knowledge of and experience in performing Swedish and Deep Tissue Massage required, as well as knowledge of and experience in performing other modalities offered by Massage Envy.

Understands and believes in the healing benefits of massage therapy and bodywork.
Benefits
Combination pay of hourly and service wage with service pay at $15/hour+ depending on experience

Additional bonuses

Comprehensive healthcare benefits for full-time staff

Tips

PTO program

Flexible scheduling

Discounts on all products and services

Continued training in several modalities

A dedicated reservations team that works on keeping you busy doing what you love to do
Apply now to see why Massage Envy is growing to be the #1 employer of bodywork providers in the country! We offer competitive compensation, dedication to the longevity of your career, free Continuing Education Courses, and the ability to work with best-in-class services and people!
What We'll Accomplish Together:
As a team, we're committed to offering excellent professional services that help clients do more of the things they love. Your role and the work you do every day is at the very heart of our mission. This includes:
Performing quality, therapeutic bodywork that meets clients' needs within scope of practice and licensing guidelines as applicable in our state.
Customizing massage services within Massage Envy's policies, protocols, and approved modalities to craft truly personalized sessions.
Safeguarding the client experience, maintaining client confidentiality and upholding our commitment to safety.
Embracing the Massage Envy core values of optimism, gratitude, excellence, consistency and empathy.
Protecting our workplace culture by recognizing and supporting team goals and building positive relationships with team members.
What it Takes to Succeed:
We only succeed together, so we're looking for people with the passion and experience to be amazing. Those who thrive in this role are:
Well-skilled professionals who have a minimum of 500 hours of massage therapy school under their belts and a certificate of completion. You'll also need to meet the licensing requirements for massage therapy in our state and be able to pass a background and reference check with flying colors.
Thirsty for knowledge, seeking continuing education to build on their modality mastery (which must include Swedish and deep tissue massage)
Clear communicators who can effectively identify each client's needs, set clear expectations, and stay connected to the client throughout the session to achieve the goals of each service.
Total body care champions who can recommend follow-up visits and additional services and products as needed to help clients pursue their wellness goals.
Great teammates who show up on time ready to jump in wherever needed to get the job done.

We Believe Our Differences Make Us Better
We're excited to hear from everyone with the skills, experience, and passion to do a great job regardless of race, color, religion, gender, sexual orientation, national origin, genetics, disability, age, or veteran status.
If you're ready to bring your healing skills to a place where you can focus on doing what you love, we can't wait to meet you.
---
*Massage Envy Franchising, LLC ("MEF") is a national franchisor of independently owned and operated franchised locations. Each individual franchised location, not MEF or any of its affiliates, is the sole employer for all positions posted by a franchised location, and each individual franchised location is not acting as an agent for MEF or any of its affiliates. Hiring criteria, benefits and compensation are set by each individually owned and operated franchised location and may vary from location to location.
Apply
Watch our videos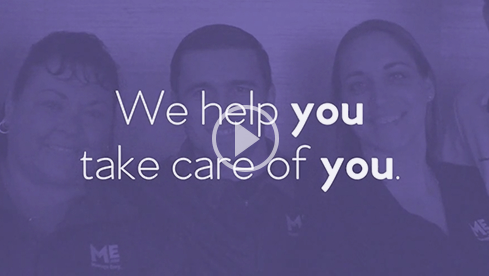 Massage Envy Careers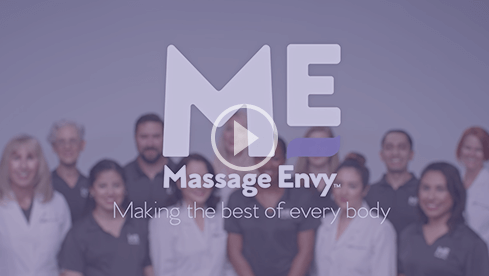 A Career at Massage Envy
Stay Connected
Get to know ME at a deeper level. Sign up to stay updated on the latest job postings, company news, and industry info.
Sign Up