You understand the impact that looking good on the outside can have on how a person feels on the inside. And you help your clients through customized and cutting-edge approaches to skin care. At Massage Envy franchised locations,* you'll find a culture of care that nurtures you as a person, an artist, and a professional.
What we offer
AN ENVIRONMENT THAT RESPECTS YOU

and your unique expertise as an integral part of our vision of total body care.

A SERVICE MODEL THAT EMPOWERS YOU

to create a customized experience perfectly tailored to client needs with an increasing range of new and innovative services.

PRODUCT LINES THAT EXCITE YOU

with professional grade skin and body care formulas, specialized protocols, and in-depth product training.

COMPENSATION & BENEFITS THAT SUSTAIN YOU

with consistent clientele, flexible schedules, and a clean,
well-supplied professional environment so you can focus on
doing – and getting paid to do – what you love.
Job Description
Overview:
Do you love helping clients see the best in themselves and feel beautiful in their own skin?
Massage Envy is more than the leader in accessible massage—we're also America's leading skin care service provider. As an esthetician at one of our franchised location,* you'll join a team that's passionate about helping people feel their best through total body care. And you have an important role to play in that mission as you:
Combine your expertise and artistry along with our protocols and modalities to design customized facial and body treatments that meet the individual needs of clients.
Become a trusted adviser to members and guests to help them pursue their total body care goals.
Deliver an amazing, safe, and therapeutic experience with every service.
Here's what's in it for you:
.
As an esthetician at Massage Envy, you will have the ability to offer customized skincare services tailored to your clients needs and your expertise. You will also be able to utilize our exclusive selection of Advances Skincare Services and incorporate PCA Chemical Peels, 60 and 90-Minute Advanced Murad Facials, and our proprietary SilkPeel MicrodermInfusion treatments.
Responsibilities:
Must love educating clients on at-home treatments

Performs professional quality facials, within scope of practice and licensing (as applicable).

Must follow all Massage Envy policies and protocols.

Assists in the cleanliness of the location (treatment rooms and common areas).

Utilizes Massage Envy approved protocols, in accordance with applicable law in your location.

Maintains professional appearance at all times.

Maintains client confidentiality at all times.

Performs facials based on members and guests individual needs.

Assists in promotion of the health and wellness benefits to members/guests receiving routine skincare; communicates various promotions to members/guests.

Creates excellent member/guest experience through friendly and helpful attitude.

Reliable, on time attendance. Attends all scheduled shifts, is prompt to work and works entire scheduled shift.

Completes Wellness Chart documentation accurately and completely.

Other duties as assigned.
Communications and Personal Interactions:
Have a strong customer service orientation.

Possess the ability to communicate effectively (orally and written) and in a courteous and professional manner on a regular basis with members, guests, co-workers and management.

Maintain client confidentiality.
Education, Skills and Training:
Must possess state licensing.

Participates in continuing education to improve effectiveness (preferred).

Satisfactory results of background and reference check is a condition of employment in this position.

Must adhere to all applicable local and state licensing laws and regulations related to the esthetic services provided, including following any applicable law pertaining to maintaining current Esthetics License.

Knowledge of and experience in performing facials is required, along with ability to follow Massage Envy protocols.

Understands and believes in the benefits of skincare.
Benefits
Combination compensation of hourly wage and service wage

Starting service pay at $17/hour

Uncapped bonuses for retail and additional bonuses for advanced treatments and performance

Comprehensive healthcare benefits for full-time staff

Tips

PTO program

Flexible scheduling

A dedicated reservations team that works on keeping you busy doing what you love to do
Apply now to see why Massage Envy is the #1 employer of Estheticians in the country! We offer competitive compensation, dedication to the longevity of your career, free Continuing Education Courses, and the ability to work with best-in-class products and people!
What We'll Accomplish Together:
As a team, we're committed to offering excellent professional services that help clients look and feel their best, so they have the confidence to do more of the things they love. Your role and the work you do every single day is at the very heart of our mission. This includes:
Performing quality, professional skin care services that meet clients' needs within scope of practice and licensing guidelines as applicable in our state.
Customizing facial and body treatments within Massage Envy's policies, protocols to craft truly personalized sessions and recommending a home-care regimen to achieve desired results.
Safeguarding the client experience,maintaining client confidentiality and upholding our commitment to safety.
Embracing the Massage Envy core values of optimism, gratitude, excellence, consistency and empathy.
Protecting our workplace culture by recognizing and supporting team goals and building positive relationships with team members.

What it Takes to Succeed:
We only succeed together, so we're looking for people with the passion and experience to be amazing. Those who thrive in this role are:
Well-skilled professionals who have a minimum of 500 hours of skin care education and required classroom work under their belts. You'll also need to meet the esthetics licensing requirements in our state and be able to pass a background and reference check with flying colors.
Thirsty for knowledge, seeking ongoing training to build on their skin care mastery
Clear communicators who can effectively identify each client's needs, set clear expectations, and guide clients through the treatment to achieve the goals of each service.
Total body care champions who can recommend follow-up visits and additional services and products as needed to help clients pursue their wellness goals.
Great teammates who show up on time ready to jump in wherever needed to get the job done.

We Believe Our Differences Make Us Better
We're excited to hear from everyone with the skills, experience, and passion to do a great job regardless of race, color, religion, gender, sexual orientation, national origin, genetics, disability, age, or veteran status.
If you're ready to put your amazing skin care skills and know-how to work to help people feel their best, we can't wait to meet you.
---
*Massage Envy Franchising, LLC ("MEF") is a national franchisor of independently owned and operated franchised locations. Each individual franchised location, not MEF or any of its affiliates, is the sole employer for all positions posted by a franchised location, and each individual franchised location is not acting as an agent for MEF or any of its affiliates. Hiring criteria, benefits and compensation are set by each individually owned and operated franchised location and may vary from location to location.
Apply
Watch our videos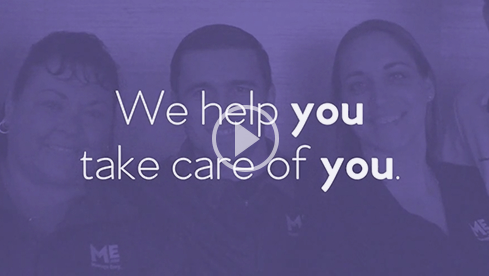 Massage Envy Careers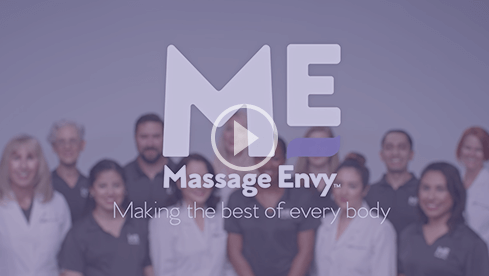 A Career at Massage Envy
Stay Connected
Get to know ME at a deeper level. Sign up to stay updated on the latest job postings, company news, and industry info.
Sign Up