As a sales and customer service professional, you're the key to unlocking the value of total body care. As you help clients understand the benefits of regular massage, skin care and stretch; convert guests into members; and maximize the positive impact of in-location services through home-care product retail sales, you're a critical part of helping people feel their best. You deserve a career that helps you feel and deliver your best. At Massage Envy franchised locations,* you'll find a culture of care that inspires you to be your best, building excellent customer experiences from the inside out.
What we offer
AN ENVIRONMENT THAT RESPECTS YOU

by recognizing the importance of your role in making clients' wellness journey a positive one from the moment they walk in the door.

A CULTURE THAT EMPOWERS YOU

to be an active part of our community of caregivers, matching clients with the right service providers and maximizing the impact of the wellness experience through enhancements, home care products, and membership.

COMPENSATION AND BENEFITS THAT SUSTAIN YOU

with flexible schedules and opportunities for personal and professional growth.
Job Description
Overview:
Do you enjoy helping others?
Do you want to gain exposure to therapeutic massage and skin care as part of a community of caregivers committed to helping people feel their best? If the answer is "yes," we want you on our team at Massage Envy Cinco Ranch. Massage Envy is the leader in accessible massage and skin care. As a wellness support specialist at our Cinco Ranch franchised location,* you'll join a wellness community that's 35,000 strong. And you have an important role to play as you:
Support and empower our service providers as they deliver amazing, safe, and professional massage and skin care services.
Help to deliver a consistently excellent experience for members and guests by creating and maintaining a pleasant, clean, calming environment.

Build strong relationships with team members

, becoming the go-to support person that helps to keep this all-star team performing at its best.
As a Spa Back at this Massage Envy franchised location,* essential responsibilities revolve around providing excellent services to members and guests. These include:

Preparing enhanced therapies and hot towels

Warming and cleaning hotstones and other resources used by frontdesk and therapist


Changing sheets and blankets in treatment rooms

Sweeping, dusting and vacuuming of hallways lobby areas and treatment rooms

Placing incoming calls on hold

Preparing clinic for Corporate Visits


Maintaining cleaniness of breakroom, bathrooms, and offices

Organizing closet spaces


Removing trash

Cleaning I-pads and charging stations

Accepting constructive criticism in a positive manner and using it as a learning tool.

Upholding the Massage Envy brand's core values of optimism, gratitude, excellence, consistency and empathy.

Staying updated on retail products and promotions.

Recognizing and supporting team goals and creating and maintaining positive relationships with team members.
What We'll Accomplish Together:
As a team, we're committed to delivering an excellent experience every time and growing our member base to help more people on their wellness journey. Your role in our mission is supporting service providers and front-of-house staff and making sure important operational tasks are completed to keep everything running smoothly. This includes:
Creating a pleasant and professional atmosphere ensuring that the lobby, front desk, retail shelves, tranquility and treatment rooms are clean, organized, well-stocked and ready for clients.
Helping to deliver outstanding customer service by assisting front desk staff with filing, organizing, shipping and receiving, and other tasks as needed so they're prepared to focus on clients.
Supporting the delivery of our brand promise, "We help you take care of you," by ensuring that treatment rooms are client-ready and that service providers have everything they need to deliver amazing services.
Upholding the Massage Envy core valuesof optimism, gratitude, excellence, consistency and empathy.
Protecting our workplace cultureby recognizing and supporting team goals and building positive relationships with team members.
What it Takes to Succeed:
We only succeed together, so we're looking for people who have what it takes to be amazing. Those who shine in this role are:
Total body care champions who believe that therapeutic massage and skin care are an essential part of body maintenance and are on a growth path to becoming service providers (ongoing employment in this role will be contingent upon meeting specific progress benchmarks for becoming a massage therapist or esthetician).
People of integrity ready to champion the well-being of members, guests, and team members and do the right thing (even if it isn't the easy thing).
Masters of customer service who makes everyone they interact with feel valued and supported, whether in person or on the phone. Bonus points for previous customer service experience.
Great teammates who can work well with other in a fun and fast-paced environment.

We Believe Our Differences Make Us Better
We're excited to hear from everyone with the skills, experience, and passion to do a great job regardless of race, color, religion, gender, sexual orientation, national origin, genetics, disability, age, or veteran status.
If you're ready to grow with a team committed to helping people feel their best, we can't wait to meet you.
---
*Massage Envy Franchising, LLC ("MEF") is a national franchisor of independently owned and operated franchised locations. Each individual franchised location, not MEF or any of its affiliates, is the sole employer for all positions posted by a franchised location, and each individual franchised location is not acting as an agent for MEF or any of its affiliates. Hiring criteria, benefits and compensation are set by each individually owned and operated franchised location and may vary from location to location.
Apply
Watch our videos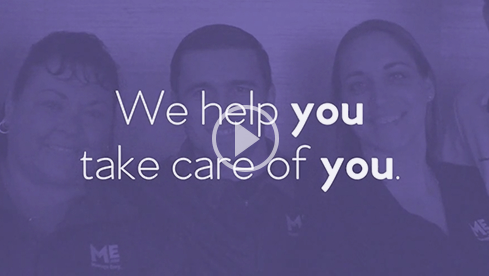 Massage Envy Careers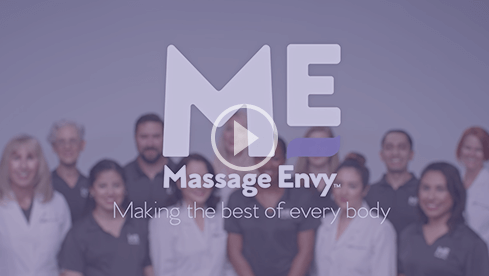 A Career at Massage Envy
Stay Connected
Get to know ME at a deeper level. Sign up to stay updated on the latest job postings, company news, and industry info.
Sign Up