As a sales and customer service professional, you're the key to unlocking the value of total body care. As you help clients understand the benefits of regular massage, skin care and stretch; convert guests into members; and maximize the positive impact of in-location services through home-care product retail sales, you're a critical part of helping people feel their best. You deserve a career that helps you feel and deliver your best. At Massage Envy franchised locations,* you'll find a culture of care that inspires you to be your best, building excellent customer experiences from the inside out.
What we offer
AN ENVIRONMENT THAT RESPECTS YOU

by recognizing the importance of your role in making clients' wellness journey a positive one from the moment they walk in the door.

A CULTURE THAT EMPOWERS YOU

to be an active part of our community of caregivers, matching clients with the right service providers and maximizing the impact of the wellness experience through enhancements, home care products, and membership.

COMPENSATION AND BENEFITS THAT SUSTAIN YOU

with flexible schedules and opportunities for personal and professional growth.
Job Description
Overview:
WELLNESS ADVISOR & SALES ASSOCIATE - NORTH ASHEVILLE - FULL OR PART TIME
OUR PURPOSE:
We help people feel their best.
OUR VISION:
Total body care at Massage Envy is an integral part of everyone's well-being journey.
CULTURE:
Like you, we're out to make a positive difference in people's lives.Maybe that's why Massage Envy Asheville has its own unique culture.You'll find it to be a friendly, giving, and supportive environment.
POSITION BACKGROUND:
Massage Envy is hiring Wellness Advisors for both part and full time positions at their amazing North Asheville Spa.The Wellness Advisor is a vital role to the successful operations at Massage Envy, with the primary goal of offering excellent customer service to customers and assisting in daily operational tasks.Massage Envy Wellness Advisors are employees, not contract labor, and earn competitive pay.
WITH US YOU'LL ENJOY:
Orientation and continued in-house training.

Ability to earn a great living while supporting the therapy team, allowing them to make a difference in people's lives every day.

Being an employee, not contact labor.

Working alongside the best Licensed Massage Therapists & Estheticians in Asheville (the majority of our team have years and years of hands-on experience).

Knowing you are a valued part of our team.

Employee massages at reduced cost.

Great opportunities for advancement.

A locally owned and operated business.
COMPENSATION & BENEFITS:
Earn $11.00-$13.00+ per hour with bonuses.

Major Medical Coverage provided through Aetna for Full-Time Employees (Part-Time Employees receive free access to doctors including their dependents).

Dental, Life, Disability & other amazing benefits available and supported by Spa.

Employee massages and facials at a reduced cost.

Many additional benefits (see above for more details).
What We'll Accomplish Together:
ESSENTIAL DUTIES:
Providing excellent service to members/guests by answering phone calls, checking members in and out for appointments, setting appointments, greeting members/guests upon arrival, and selling and renewing memberships, calling in active members to invite an appointment, log and relay member concerns to the management team.

Assists in maintaining a professional, clean and organized front desk, reception area, therapy rooms, and common areas.

Assists with restocking linen shelves and replacing full linen bags, assists with checking lotion supplies and inventory.

Understands and applies strategic membership sales offerings to all guests.

Promptly and professionally answering of the phone.

Assists in administrative tasks including filing, member folder maintenance, and data entry of client records and surveys.

Understands, believes in and upholds Massage Envy's Purpose, Vision and Values.

Other duties as assigned.
What it Takes to Succeed:
POSITION REQUIREMENTS:
Able to work flexible days and hours, including at least some evenings and weekends.

Must be customer service oriented and able to communicate effectively with clients, clinic management, and sales staff.

Understands and believes in the healing benefits of massage therapy and bodywork.

"Whatever it takes" attitude.

Ability to identify and problem solve.

Outgoing personality and persuasive communicator.

Proficient prioritization and multi-tasking abilities.

Ability to continuously sit, stand and/or walk quickly.

Ability to bend, lift, and squat frequently.

Ability to lift up to 40 lbs. occasionally.

Able to move quickly and handle multiple responsibilities at the same time.

Must be passionate about massage, helping people, and healing.

Must adhere to local and state laws and regulations.

High school diploma or equivalent (GED).

Previous sales experience preferred.
Reasonable accommodations are available to individuals with disabilities, upon request, as required by law.
APPLY TODAY OR STOP BY AND ASK FOR A TOUR -- YOU'LL BE GLAD YOU DID!
_________________________________________________________________________________
*Massage Envy Franchising, LLC ("MEF") is a national franchisor of independently owned and operated franchised locations. Each individual franchised location, not MEF or any of its affiliates, is the sole employer for all positions posted by a franchised location, and each individual franchised location is not acting as an agent for MEF or any of its affiliates. Hiring criteria, benefits and compensation are set by each individually owned and operated franchised location and may vary from location to location.
Apply
Watch our videos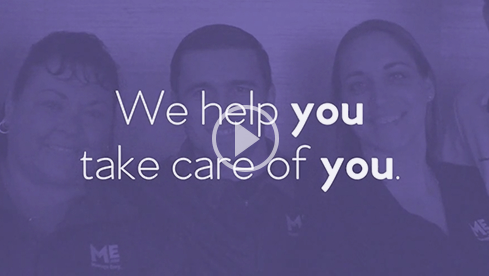 Massage Envy Careers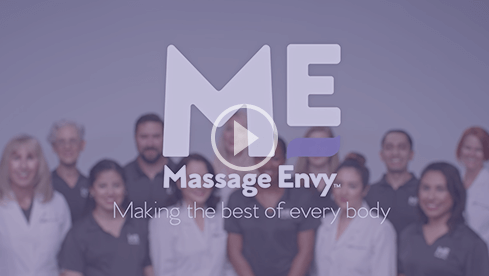 A Career at Massage Envy
Stay Connected
Get to know ME at a deeper level. Sign up to stay updated on the latest job postings, company news, and industry info.
Sign Up