As a massage therapist, you put your heart and soul into helping others feel their best. That's why you deserve a career that does the same for you. At Massage Envy franchised locations,* you'll find a culture that nurtures you as a person, an artist, and a professional. With access to things like 12+ FREE CEs per year and a commitment to self-care, you'll have the tools and support you need to thrive in the career you love.
What we offer
Free Continuing Education

Grow in the treatment room and beyond with access to 12+ FREE CEs per year.

A COMMITMENT TO SELF-CARE




Prolong the life of the career you love with the support you need to thrive as a wellness athlete.

A TECHNOLOGICALLY-ENHANCED EXPERIENCE

Save your hands for healing with industry-leading technology designed by massage therapists for massage therapists.
Job Description
Overview:
LICENSED MASSAGE THERAPIST – NORTH ASHEVILLE – FULL OR PART TIME AVAILABLE
OUR PURPOSE:
We help people feel their best.
OUR VISION:
Total body care at Massage Envy is an integral part of everyone's well-being journey.
CULTURE:
Like you, we're out to make a positive difference in people's lives. Maybe that's why Massage Envy Asheville has its own unique culture. You'll find it to be a friendly, giving, and supportive environment.
WITH US YOU'LL ENJOY:
Working with repeat customers allowing you to see the results of your work.

Excellent pay with steady clients (our pay is well above the industry average).

Client request bonuses and additional upgrade service commissions.

Employer supported healthcare insurance plans available (30+ hours/week employees).

Employer provided access to doctors 24/7 for employee and dependents (less than 30 hours/week employees).

Optional dental, vision, life and disability insurance plans available (30+ hours/week employees).

Optional 401(k) savings plan available (30+ hours/week employees).

Employee massages at a reduced cost.

Keeping 100% of your gratuities.

Fixed work schedules full of appointments – no on-call shifts.

Orientation and continued in-house training.

10+ FREE continuing education classes each year.

No requirement to fold towels/laundry or perform other non-therapy tasks.

Flexible schedules that fit your life.

Ability to earn a great living doing what you love.

Fully customize sessions utilizing a variety of modalities.

Well-stocked treatment rooms with state-of-the-art equipment including hydraulic lift tables, room temperature control, towel warmers, etc.

Being an employee, not contract labor.

Working alongside the best Licensed Massage Therapists in Asheville (the majority of our Therapists have years and years of hands-on experience).

Knowing you are a valued part of our team.

Great opportunities for advancement.

A locally owned and operated business.
Massage Envy is hiring experienced and professional Licensed Massage Therapists for part time positions at their amazing North Asheville location. We offer an excellent income opportunity with steady repeat clients, flexible hours, free continued education, no waiting for appointments, and a set work schedule. Massage Envy Therapists are employees, not contract labor, and earn well above industry average income.
WATCH THE BELOW VIDEO TO LEARN MORE
FROM ONE OF OUR OWN AMAZING MASSAGE THERAPISTS
COMPENSATION & BENEFITS:
Total compensation ranges from $28.00-$35.00+ hourly ($43,680-$54,600+ per year assuming 30 hours hands-on per week).

Paid Time Off (Full-Time Employees).

Major Medical Coverage provided through Aetna for Full-Time Therapists (Part-Time Employees receive free access to doctors including their dependents).

Dental, Life, Disability & other amazing benefits available and supported by location.

Employee massages free or at reduced cost.

Many additional benefits (see above for more details).
What We'll Accomplish Together:
PRINCIPLE DUTIES INCLUDE:
Perform consecutive 50, 80 or 110-minute quality massage therapy sessions.

Perform integrated sessions, designing customized sessions based on client's individual needs.

Promote the health and wellness benefits to client's receiving massage therapy on a regular basis.

Create excellent experience for members/guests through friendly and helpful attitude.

Generate new clientele through promoting member referral and guest pass programs.

Help maintain professionalism and cleanliness of therapy rooms and common areas.
What it Takes to Succeed:
POSITION REQUIREMENTS:
Able to work flexible days and hours, including at least some evenings and weekends.

Knowledge of multiple modalities including but not limited to Swedish and Deep Tissue Massage.

Must be customer service oriented and able to communicate effectively with clients, management, and customer support staff.

Understands, is passionate about, and believes in helping people through the healing benefits of skincare, massage therapy and bodywork.

Must carry liability insurance.

Must adhere to local and state licensing laws and regulations.

"Whatever it takes" attitude.

Ability to identify and problem solve.

Outgoing personality.

Professional image.

Ability to continuously stand and/or walk quickly.

Ability to bend, lift, and squat frequently.

Ability to lift up to 40 lbs. occasionally.

Completed a minimum of 500 hours of education.

Must pass a background check.
APPLY TODAY OR STOP BY AND ASK FOR A TOUR -- YOU'LL BE GLAD YOU DID!
____________________________________________________________________________________
*Massage Envy Franchising, LLC ("MEF") is a national franchisor of independently owned and operated franchised locations. Each individual franchised location, not MEF or any of its affiliates, is the sole employer for all positions posted by a franchised location, and each individual franchised location is not acting as an agent for MEF or any of its affiliates. Hiring criteria, benefits and compensation are set by each individually owned and operated franchised location and may vary from location to location.
Apply
Watch our videos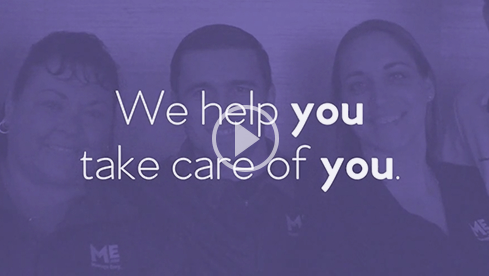 Massage Envy Careers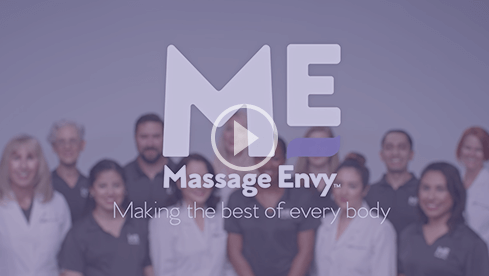 A Career at Massage Envy
Stay Connected
Get to know ME at a deeper level. Sign up to stay updated on the latest job postings, company news, and industry info.
Sign Up